Entries now open for Cambodia Real Estate Awards 2019!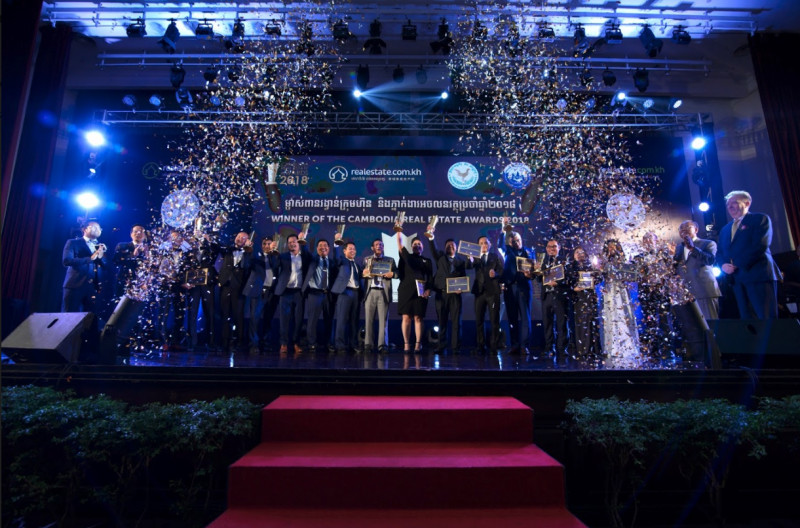 Realestate.com.kh in conjunction with the CVEA and the Ministry of Economy and Finance (MEF) are proud to announce the launch of the Cambodia Real Estate Awards 2019. Over the past 5- 10 years we have witnessed huge growth in the Cambodian real estate industry and as such, entries are now officially open to recognise high performing individuals and agencies from across the sector at the Cambodia Real Estate Awards 2019. "In testament to the influx of investment and growth in the Cambodian middle class, developments across the country, particularly in Phnom Penh and Sihanoukville saw sizable growth. With the entry of yet more international real estate agency franchises as well as the birth of even more local brands, the sector is truly coming of age and opportunity. Within this growing industry there exists individuals and companies that have contributed greatly to this growth, and in establishing a real estate industry in pursuit of service, ethics and success." noted Tom O'Sullivan, CEO of Realestate.com.kh.
In response to this, last year Realestate.com.kh launched the inaugural Cambodia Real Estate Awards (CREA) as a way of leading the industry to reward top performers for their efforts and professionalism. With over forty companies entering in 2018, winners across all categories were identified and celebrated in a night surrounded by their industry peers with highly regarded and prestigious awards.
In 2019, Realestate.com.kh, and the Cambodia Valuers and Estate Agents Association (CVEA)​ supported by the Ministry of Economy and Finance (MEF) will again host the Cambodia Real Estate Awards; an awards series that recognizes leading agents, agencies, and celebrate the finest real estate practices and professionals nationwide.
There is no cost associated with entering or winning awards at the CREA and winners will be judged and awarded through a panel of respected industry professionals, in combination with public opinion obtained through online voting mechanisms. Realestate.com.kh​ and CVEA, as the event organisers, will remain wholly independent and separate from the judging process. CREA follows a globally proven model that awards excellence across the industry in a transparent, objective and ultimately fair way.
The mission of the CREA is to recognize the achievements of the Cambodian real estate industry objectively, without bias or undue influence and on a wholly inclusive basis, which allows all firms and individuals to participate regardless of the size or wealth of their operation. The awards will be available for real estate agencies, valuation and property management firms and project sales teams, nationwide.
For finalists and winners, awards are presented in the form of a trophy that draws inspiration from Cambodian landmarks and architecture as well as widespread recognition via the prestigious seal that is available for use after the event. Winners will also be presented with a framed certificate confirming their achievement.
The judging process will be monitored with diligence by established accounting and auditing firm Cambodian Investment Management (CIM) to ensure the awards are free from any bias. Finalists and Awards winners will be granted the prestigious CREA seal which can be used in their marketing materials, along with a trophy and a certificate confirming their personal or company achievement.
The awards will only be open to firms who have the correct licenses with the MEF and must be registered member of CVEA.
Shortlisted nominees and the broader real estate industry will be invited to join an Awards Ceremony and Gala Dinner celebrating the industry's milestones, which will be held at Sofitel Hotel Phnom Penh on July 11th, 2019. Ticket sales and sponsorship for this prestigious event are now open!
Please contact Realestate.com.kh for information on how to enter or buy tickets to the Gala dinner.
Khmer: San Limeng | san.limeng@realestate.com.kh | +855 (0) 70 800 639
Chinese: Kimbuoy Chhun | kimbuoy.chhun@realestate.com.kh | +855 (0) 81 767 615
English: Alex Sing | alex.sing@realestate.com.kh | +855 (0) 15 583 420
Key Dates:
11th of July - Gala Dinner at Sofitel Phnom Penh
14th of June - Entries close
1 April - Entries open for 2019 Cambodia Real Estate Awards