News from tourismcambodia : First Cambodia Real Estate Awards 2018 officially launched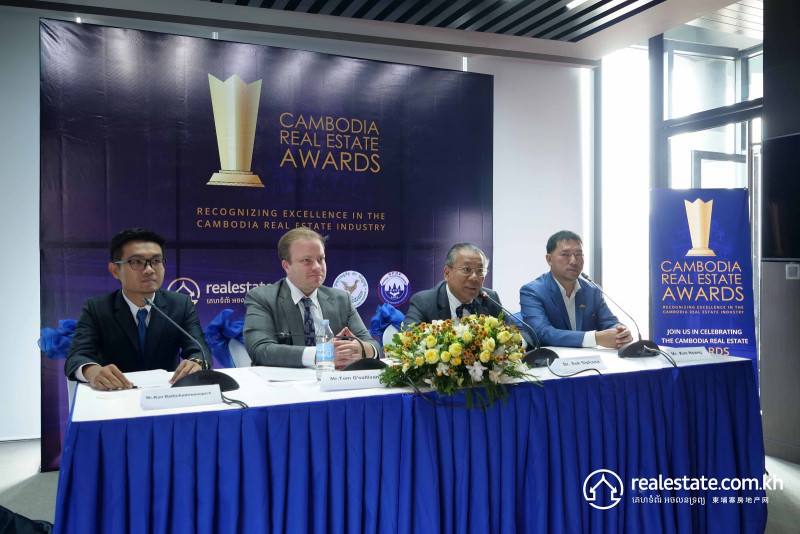 Tom O'Sullivan (2nd from left), CEO of Realestate.com.kh. Realestate
After weeks of preparation, the much-awaited and prestigious Cambodia Real Estate Awards 2018 was officially launched on Monday.
CREA 2018, which promises to be the biggest event for the Cambodia Real Estate Industry this year, opened with a press conference at Lumiere Hotel that was attended by the organizers and representatives of different media organizations and real estate agencies/property developers.
Realestate.com.kh, Cambodia's leading real estate website and marketing agency, is the main event organizer, with able support provided by the Ministry of Economy and Finance (MEF) and the Cambodian Valuers and Estate Agents Association (CVEA). Media partners include CTN, Khmer Times, and Biz Khmer.
Mr Tom O'Sullivan, CEO of Realestate.com.kh, said CREA 2018 recognises and celebrates achievements in the Cambodian real estate industry. "This is Realestate.com.kh's chance to give back to the real estate industry, offering the opportunity for all businesses in the industry to celebrate the achievements that have been made," he stressed.
"We are delighted to launch the Cambodia Real Estate Awards 2018, in partnership with the Ministry of Economy and Finance; and we sincerely hope that this awards series will lead to a new era or professionalism, competition and excellence for the Cambodian real estate industry as a whole," Mr O'Sullivan added.
Dr Kim Heang, President of CVEA, noted during the media briefing that CREA 2018 is part of the effort to bring Cambodia to the world. "From now on, we should hold this event more often, so we can give value to the best agent, best valuer, to the best people in the real estate industry. We need to promote our own industry, we need to promote Cambodia to the outside world," he said.
His Excellency Mey Vann, Director General of the Department of Industry and Finance of the MEF, said MEF is proud to support the undertaking. "The CREA, led by Realestate.com.kh, is an event to reward those agents, agencies and developers are your running legitimate operations in Cambodia – and pushing themselves to build stronger and better real estate businesses. It is with pride that the MEF join's Realestate.com.kh in this endeavor," he said.